You'll often hear that it's necessary to combine Poten Cee with collagen to get the full benefits of your collagen supplement. 
But, how exactly do they work together?

How do Vitamin C benefit skin health?

How does collagen benefits skin health?

And, what is Poten Cee with  Collagen? 
In this article, we'll discuss everything you need to know about  Vitamin C and collagen, and how it can affect your skin's health. Plus, we'll talk about Poten-Cee Collagen, a supplement that contains both Vitamin C and collagen.
Poten Cee with Collagen and Vitamin C for Skin Health Overview
Collagen is vital for your skin health and several other aspects of your overall health. On its own, it's great for hydrating the skin, helping it too look firm, plump, and healthy. It can also alleviate bone pain, joint pain, and can improve gut health, as well as strengthen hair and nails. 
One vitamin that's necessary for the formation of collagen is Vitamin C. it also happens to be crucial for your skin's health. 
Collagen and Vitamin C deficiency can both have a serious effect on your health. Genetics, aging, poor diet, and sun exposure are all reasons why your collagen and Vitamin C production can start to decline. These are also typical causes of deficiencies.
The good thing is collagen and Vitamin C work together in the body to provide great skin health benefits. And when your collagen and Vitamin C levels decline, you can take individual supplements for both, or take a supplement like Poten-Cee Collagen that provides both Vitamin C and collagen. 
Collagen and Skin Health
Collagen is the most abundant protein in your body. It is a protein that serves as one of the main building blocks for your bones, ligaments, tendons, muscles, hair, and skin. Collagen is what keeps your skin from sagging, giving you that plump and youthful look. 
Your body naturally makes collagen, but this production decreases with age – it decreases by about 1% each year once you reach your 20s. A collagen deficiency results in the common signs of aging, including wrinkles, fine lines, stiff joints, and sagging skin that has lost its elasticity. 
The health benefits of collagen include improved fine lines and wrinkles, increased collagen production in the body, stronger hair, and nails, and strengthened skin. When your collagen levels are high, your skin will be firm, smooth, and soft. Collagen also helps the skin cells repair and renew themselves. Collage also helps keep your skin moist. This is why it's important to maintain your collagen levels through eating collagen-rich foods and taking collagen supplements.
Fortunately, there are a lot of options out in the market today. Some options include hydrolyzed collagen, collagen pills, liquid collagen, collagen powder, and more. One of the best collagen supplements in the Philippines today is Poten-Cee with Collagen. 
Vitamin C and Skin Health
Vitamin C (ascorbic acid) plays a vital role in maintaining skin health – its antioxidant properties and its role in collagen synthesis make it a vital molecule for skin health. It is also involved in the formation of the skin barrier and collagen in the dermis, and also plays a physiological role in the skin against skin oxidation and in the antiaging of wrinkles. Dietary and topical Vitamin C has beneficial effects on skin cells, and some studies reveal that Vitamin C may help treat and prevent UV-induced photodamage.  
Vitamin C is a normal skin constituent that's found at high levels in both the dermis and epidermis. The Vitamin C content of the epidermis is higher than the dermis; however, Vitamin C Concentrations in both layers are approximately equal to that of other water-soluble antioxidants, including glutathione and uric acid. 
Aging causes a decline in Vitamin C content in both the epidermis and dermis. Excessive exposure to UV light and other pollutants (i.e. cigarette smoke) may also lower your Vitamin C levels, primarily in the epidermis. 
Fortunately, you can maintain your Vitamin C levels by eating Vitamin-C-rich fruits and vegetables. You can also take a supplement like Poten-Cee. 
How Does Vitamin C Affect Collagen?
Vitamin C is necessary for the synthesis and maintenance of collagen. It helps to produce collagen, as it has an active role in collagen synthesis. It also acts as a sort of glue that binds collagen together. Vitamin C is also important for immune support, the repair and growth of body tissues, and skin health. 
Can You Take Vitamin C and Collagen Together?
Yes, you can take Poten Cee Vitamin C and collagen together, such as in the case of Poten Cee with Collagen that combines both of these together.
Taking Vitamin C and collagen together will likely boost your skin health even further than if you just took one of the supplements on its own. 
For collagen supplements, you'll want to choose products with no additives or flavorings. It should also be organic or non-GMO to ensure the highest quality. Otherwise, it may contain additives that could hinder the benefits of collagen. There are no known side effects of collagen supplements, making them a safe supplement to take. 
Vitamin C supplements are similar, as they are generally safe to take. When looking for a Vitamin C supplement, look for one that doesn't contain excess ingredients.
One thing to note in regards to skincare is that Vitamin C can work on the skin topically, but collagen does not. Creams and serums that contain Vitamin C are great for repairing skin damage, renewing skin cells, and making the skin glow. On the other hand, collagen can't be absorbed through the skin.  
Poten Cee Vitamin C + Collagen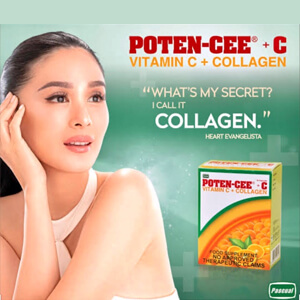 Poten Cee Vitamin C + Collagen is a daily vitamin supplement that helps improve the quality and health of your skin. It contains 70mg of Vitamin C in combination with 650mg of hydrolyzed collagen, which is scientifically have been shown to improve skin hydration and reduce dryness, prevent the formation of wrinkles and fine lines, and support overall skin health.  
Dosage and Storage Instructions.

Take 1 capsule once a day with food, or as recommended by your health care professional. Store at a temperature not exceeding 25°C.
Poten-Cee Vitamin C + Collagen User Reviews
Wondering about the efficacy of Poten Cee Vitamin C + Collagen?

Find out what users have to say about this daily vitamin supplement. 
"I am glad that Poten Cee has formulated a collagen and Vitamin C capsule in one. It really boosts my immune system and keeps me energized. It doesn't have a taste so it goes down easily. I didn't feel bloated or acidic too. After taking for weeks now, I noticed that my skin became brighter and my skin is less dry. This product works well for me." – Anj 
"Poten Cee 2-in-1: Poten Cee Vitamin C and Collagen for the price of 1! I've been taking this capsule for almost 2 weeks now and it made my skin glow and bloom. I will definitely buy again this product in the future." – PrinceNez 
"Poten Cee is my trusted brand of Vitamin C as it really boosts my immune system and makes me really healthy. The addition of collagen makes me love this brand more as I noticed that my skin becomes brighter and glowing and I feel very energized. And also collagen is very vital to our body especially for our skin so I will definitely buy this vitamin." – Joyce Abes
"I always make sure to incorporate Poten Cee Vitamin C in my daily intake, because I am aware of how important it is for good health and well-being. I was really excited to try the new product, Poten Cee +C because I know the added collagen content will benefit my skin in terms of elasticity. I love the result that translated to better looking and glowing skin! I suggest though, that they add more Vitamin C content for increased potency and make it alkaline or non-acidic Vitamin C, for it to be more tummy-friendly." – Kcee 
"The only Vitamin I am never without is Poten Cee Vitamin C because it's good for immunity and it keeps me healthy. I am particular with the ones that have high acidity because I'll feel discomfort the whole day. I've been using Poten Cee so I had to try the one with +Collagen, we all know the benefits of it. A strong immune system and younger, firmer skin is such a powerful combination. After I finished my samples, I bought another pack." – maanlj 
"I love this product so much. The result is very visible and it leaves a light glowing skin on me. After I finished a box of this I purchased another one and I even recommended this to my friends and family." – Yeye G. 
"Poten Cee + C gives me the needed vitamin C plus collagen for my skin. It is hard to drink a lot of supplements and this makes drinking easier as it's a combined vitamin with collagen. My skin looks firmer but soft and smooth to touch. It also gives me an energy boost every day. Vitamin C is good for immunity and for the skin too. The foil packs are handy too and I can just toss them inside my bag with no hassle, and drink them whenever and wherever I am. I will buy this supplement and I have already recommended it to my friends." – Angeliya 
"I make it a daily habit to take Poten Cee vitamin C supplements to help protect me from cold and boost my immune system. I was excited to try this product because it has added collagen it which I think I really need since I'm getting older. After taking it for a week, I noticed that it improved the texture of my skin and gave me a boost of energy every day. I think this is a great product and the price is affordable compared to other counterparts in the market that contains collagen." – Bellarhyse 
"I will definitely be buying this product again. It is amazing that you could both have Poten Cee vitamin c and collagen in one capsule. I drink it once a day daily and I never had a cough or a runny nose even if the weather changes. I also believe that the collagen is working as my skin does not feel that dry as it used to." – Krisatams 
"According to my ortho doctor, I need a higher dose of Poten Cee collagen to prevent any injuries since I am prone to it. This is a great thing. It not only gives me vitamin C but it also helps produce collagen for my joints and tendon. I may have done this review late, but I already bought boxes of this after consuming my sample because it is that great." – absgalore 
"Poten Cee +C is really easy to take and drink. No need to drink another pill to have good immune and nice skin. This is really convenient for a busy mom like me. Poten Cee really improved my immune system. I am less sickly nowadays. Also nice to have a good skin complexion at the same time." – wanderbist 
"Being in my mid-30s now, I scour for products that will help slow down obvious signs of aging. But I do not just want to take a risk. I want to be able to incorporate them into my lifestyle. When this product was featured, I was like ok, I take my vitamin c, why not give it a try. I like how it comes in a capsule form as it was easier to swallow than my caplet. With my loved ones getting colds and gastro viruses left and right, I was lucky to be spared. I believe it was the vitamin c that protected me.

However, even after consuming it for 30days, I found no noticeable changes as claimed by the added collagen. Maybe I needed to give it more time to take effect." – Melai 
"I waited for 20 days after I started with the Poten Cee +C sample before I wrote a review so that I can fully assess its effectiveness and after taking the capsule for more than 20 days now, I can say that it did wonders for my skin. I noticed that my skin brightened, moisturized and I even think my pores were minimized. This is my best skin yet and I credit it to the Poten-Cee +C vitamins. Aside from its wonderful effect on my skin, I noticed that my hair grew longer faster and that I feel less tired even after a stressful day. Will definitely purchase again." – Che2
Where To Buy POTEN CEE + COLLAGEN ( Vitamin C + 650mg Collagen)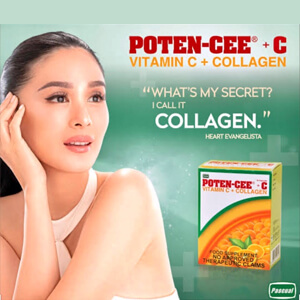 POTEN CEE + COLLAGEN is available online.
Express Delivery Nationwide.

Poten Cee Price

The selling price of Poten Cee + Collagen is P 570 – 1,795.

If you want a cheaper product, simply explore the online store by going in here.
Disclaimer: The information on this site is not intended to be a substitute for professional medical advice, diagnosis, or treatment. All information contained on this website is for general information purposes only.

Source: