Today, it seems that the desire for gray hair is stronger than ever, with over 39 million search results for "Ash Gray Hair Color".
Hair dye used to be the go-to for covering gray hair, but now it can also be used to embrace it.
While some people can't wait for hair salons to reopen so that they can cover up their gray strands, some people are purposely dyeing their hair gray.
Whether you're naturally gray and ready to rock it, or if you're looking to go temporarily silver, there are plenty of ash gray hair color dyes that will work for you.
But, with millions of options out in the market, how do you choose the best ash gray hair color dye?

To help you navigate your options, we list down some of the best ash gray hair color dyes available in the market today. We also include tips on how you can achieve ash gray hair color, how to care for your ash gray hair, and more!

Discover our top product recommendations, as well as directions on how to use ash gray hair color dyes, tips on how to care for it, and more!
Ash Gray Hair Color Description
What exactly is ash gray hair color?
You can find ash gray towards the darker end of the 'gray' spectrum. Its smoky hues suit every hair texture and type, as well as most complexions; however, it should have a more cool or neutral undertone rather than warm, otherwise, it will look brassy.
Ash Gray Hair Color Benefits
We all end up going gray in the end, so you might be wondering, "Why should I dye my hair gray?"
Below, we look into the benefits of dyeing your hair an ash gray hair color.
To cover up going gray prematurely. Are you prematurely getting gray hair? Instead of stressing out about it, why not embrace it instead by fully dyeing your hair an ash gray hair color? By dyeing it gray, you can cover up the fact that you're going gray prematurely!
It's good for your already dyed or natural hair. You might have been told that dyeing your hair is damaging to your natural hair – but that's not exactly true anymore. With new formulas and technologies, the ingredients within hair dye have improved significantly.
Coloring your hair can have benefits, such as sealing down the cuticle for healthier-looking hair. Hair can also appear fuller with a fresh ash gray hair color.
It adds texture. If your hair is limp and missing volume – or if it lacks a shiny, glossy finish – a new hair dye can totally update your underwhelming strands. Coloring your hair can emphasize texture and add luster that can bring back your hair's shine due to overexposure. Plus, you can achieve extra volume with the thickening agents found in some hair dyes.
How to Use Ash Gray Hair Color
Wondering how you can get that beautiful ash gray hair color? Here are some tips on how to use ash gray hair color products to achieve those beautiful silver tresses.
Bleach, bleach, bleach. If your hair is very dark or brown and you're desperate to go gray, be warned: You have a lot of work to do first as you simply can't achieve this beautiful ash gray hair color without bleaching your hair. The silver hair color simply won't take, so starting with super light hair is the first step in achieving this gray hair shade.
Also, depending on your natural color, you may have to do the lightening process several times. This process shouldn't be taken lightly. You can seriously damage your hair or you can end up with bleach burns on your scalp if you mess up. So, make sure to do your research or have a professional bleach your hair.
It's important that your hair reaches the lightest possible level before you attempt to go gray.
Tone your hair. After your hair is lightened, it might look quite yellow and unattractive. Also, if the color's leaning more on the orange side, it's not light enough yet. The toning process is what will kill those yellow hues – and killing those hues is essential to achieve that ash gray hair color.
You can use toner or dye (or both) depending on your preferences.
Match your skin tone. When choosing any new shade for your hair, it's important to consider how the color will compliment your skin tone. Note that with gray shades, the risk of 'washing out' your complexion is greater than ever.
Of course, we all have our preferences on how different tones go together, but there is a risk that gray can wash out the skin if it's not balanced. Those with more yellow or cool-toned skin may find it harder to wear ash gray hair color, while someone with more pink and warmth in their skin could look really good with it.
Do it gradually. When it comes to getting that beautiful ash gray hair color, patience is a must. While it might be hard to resist the urge to just jump straight it, experts advise that slow and steady is best.
Experts recommend gradually building up highlights or balayage so that you aren't block bleaching your hair in one go – this is a good option for people with dark hair. It will be a subtler transition and can be added to with more bleached highlights/sections.
Ash Gray Hair Color User Reviews and Recommendations
Looking for the best ash gray hair color products out in the market today? Here are some of our top recommendations along with user reviews.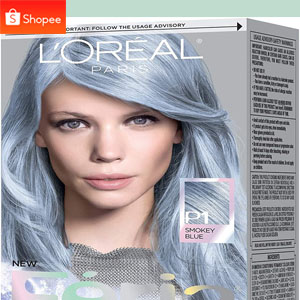 Feria Is Multi-Faceted Permanent Hair Color. Known for shimmering color and edgy colors, Feria permanent hair dye kits transform hair from blah to brilliant.
The Power Shimmer Feria Conditioner seals and smooths for lasting bold color that will turn heads. Multi-Tonal, Shimmering Feria Hair Color: With 50 plus bold shades ranging from deepest black hair dye to platinum blonde and smoky silver hair dye, Feria hair color kits are inspired by cutting-edge fashion and the latest trends, no salon appointment required.
L'Oreal Paris Hair Color comes in multiple formulations and styles to deliver long-lasting color, from fade-defying Superior Preference, to bold, stylish Feria, and gray-coverage from Excellence Crème
User reviews:
"This is my favorite Loreal Feria color. I am 53 years old and in transition in going gray, I want to embrace my natural gray and am so happy they come out with this trendy smokey silver, absolutely lovely. Although, I still can get away with ten years younger than my real age that everyone says, this gorgeous hair color really makes me look good that I can proudly embrace my beautiful gray more!" – Marsha
"I have been trying for 5 months to get my hair to be silvery grey to cover up my natural salt and pepper hair. Including going to a "professional" who turned my hair blue!!! Attached are the before and after pics. I love it!! It was exactly what I was going for!!!" – Melissa Jernigan
"This is a great color for light blonde hair. The silver tones do lighten up after the first couple of washes. But the result is exactly as pictured on the box." – Ryan Rossetto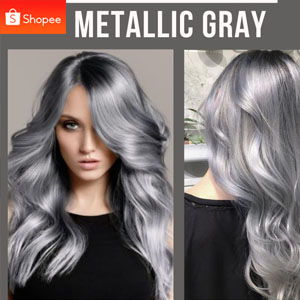 Boost your hair color with unique metallic radiance! The Got2b Metallic Permanent Hair Color, M71 Metallic Silver is formulated with metallic-shine booster for cool, shimmering tones. This hair dye can help you achieve a multi-dimensional metallic look.
If your hair is longer than shoulder length, we recommend using 2 boxes of got2b Metallics for the application
User reviews:
"Started with a light yellow and then waited about 10 days to use the silver. I was very anxious because I hate the yellow After coloring and hate toning because toner just washes out! I love just adding the silver to the yellow blonde. I will definitely use another box to get a more even color, but overall I love how it turned out!

Really want the yellow to go! Probably need 2 boxes to get an even color though. Overall, I will purchase again and it was a big improvement for me!" – Kellyjo
"This specific color works okay, fades kinda fast but I know colors like this have to be maintained. The bummer for me was my hair was bleached to the correct lightness before this hair dye was applied and it came out darker than the color it shows on the box itself. I know there will always be a little bit of a variance but my hair turned out darker than it should have.
Otherwise it's a cool color (even for the short amount of time it lasted) but if you want metallic silver better to spend a little more or better yet do several sessions at a salon with a professional to maintain the color." – Jace C.
"It did exactly what I wanted. I wanted a grayish white and I did NOT BLEACH MY HAIR FIRST. This is the before and after picture so I knew it wasn't going to be white white, but I wanted a gray tone. If you go to PLATINUM, and put it on and leave in on for bout 10 min max you WILL get that ashy platinum blonde or "silver white" no doubt. Leave it on too long you get gray, that's the math.
I wanted the gray tone cuz I didn't wanna bleach my hair again. I was platinum whitish before but it's been a while and the toner faded so I put this straight on. I wanted gray. I liked it. And I got it. I highly highly recommend this stuff. Just remember, the longer you leave it on the more gray you will get.
So if you want silver white, I would bleach out your head (if you can) and put this color on as a toner and rinse it out after like 10 min. It gets darker the longer you have it on. So for those people that left it on as long as they did and complained, it's cuz they didn't follow instructions." – Jolex
Adore Semi-Permanent Haircolor #158 Mystic Gray
Adore Semi-Permanent Haircolor #158 Mystic Gray is a new and innovative, semi-permanent hair color that will infuse each strand with a vibrant burst of luxurious color. No Ammonia, No Peroxide, and No Alcohol.
It is a Semi-Permanent Hair Color that deposits natural looking color while giving your hair a healthy resilient shine, leaving your hair in better condition than before coloring. Exclusive formula offers a perfect blend of natural ingredients providing rich color, enhancing shine, and leaving hair soft and silky.
User reviews:
"Has blue undertones in certain lighting. My hair was lifted to about a level 8-9 blonde and applied 2 bottles to dry hair and left for 40 minutes. After rinsing the product out my hair looked black and I got super scared. When I dried it I was pleasantly surprised!!

Washed my hair twice after using this (under lukewarm water with purple and blue shampoo) and seems fade resistant so far. Great price for the results it gave me! Highly recommend." – Aly
"Very thin, almost watery but covered my whole head (thin, straight hair just a tad shorter than shoulder length) the color is very gray in certain light but very blue in others and I had enough to add to conditioner to help keep color up, although there hasn't been much fading and very little bleeding even with the initial wash! Amazing quality especially for the price!" – Alicia Lockhart
"Ok, so like how this color turned out. I read some reviews and decided to mix like 2/3 color and 1/3 conditioner. I shampooed just every other day to keep the color. I would say after 2 weeks all the color is out, BUT next time I will try just straight color and no conditioner mixed in, and I think then the color will last longer.
AND I will say that I went to a professional hair stylist before and got this same pretty color that lasted about 4 days, so I think this product is pretty good. Especially if you want a new look for a special occasion or like me your hair has been colored and highlighted and you are ready to go gray, it's great for transitioning to that.
I will also say that I am pretty much convinced that if you want to add vibrant colors to your hair-purple, pink, etc. this is the way to go. I don't think it lasts any longer from a salon. My daughter wanted to act pink color on the ends-she has really long hair. It took like 3 times of getting it bleached and then the color put in and it didn't really work-was pinkish or reddish, but not pretty vibrant pink like you see in photos." – JCC
Ash Gray Hair Color Price
Ash gray hair color dyes prices can vary depending on the brand you choose and where you buy it from.
Price ranges from Php 400 for lesser-known brands; Php 900 to Php 1,000+ for well-known brands.
Where to Buy Ash Gray Hair Color
Wondering where you can buy Ash gray hair color dyes?

Here are some top online makeup stores you can get it from (simply type in 'ash gray hair color' and you'll have plenty of options):

Visit Shopee and check the following Ash gray hair color dyes.

1. L'Oreal Paris Feria Multi-Faceted Shimmering Permanent Hair Color, Smokey Silver, Hair Dye

2. Got2b Metallic Permanent Hair Color, M71 Metallic Silver

3. Ash Gray Hair Dye and Color Developer with Bleaching Set

4. Ash Gray Hair Color Dye Sora Hair Color Dye

Note:

You can also buy Ash gray hair color dyes from your local drugstores, beauty salons, and mall