If you've looked at the latest hair color trends on your social media feed, then you're probably already aware that old rose color hair or rose gold hair is one of the hottest hair colors at the moment.

With runway models, social media influencers, beauty bloggers, and Hollywood's hottest celebs demonstrating just how versatile this pretty pinkish hair color is for all skin tones, it's not surprising that you may want to rock it yourself. And you can!
To help you achieve old rose color hair, we've outlined the basics of how to get and maintain this beautiful shade.

We also offer outline some of its benefits and where you can grab a box of old rose color hair dye.
Old Rose Color Hair Description
One of the most universally beautiful new trends for hair is rose gold.

While the classic version is a blend of red, pink, and blonde shades, there are a wide variety of hues that fall into the rose gold family, including old rose color hair, copper rose gold hair, warm rose gold hair color, rose gold ombre, rose gold hair with pink highlights, and light rose gold hair – to name a few.
Whether you want to dye all your hair or just add some beautiful highlights to enrich your natural color – rose gold is very versatile. And with a wide variety of hues that fall into the rose gold family, there's definitely a rose gold look for everyone!
Old Rose Color Hair Benefits
Old rose color hair has been popular for quite some time now, and to be honest we don't see it dying out any time soon. In fact, rose gold hair is still one of the favorite choices among hair color trends of 2021!
But, what makes it so popular? Does it have any benefits?
One of the benefits of old rose color hair or rose gold hair is that it fades down in a very beautiful, flattering way. While other hair colors might look lifeless and washed out, faded rose gold hair can still look chic!
Also, there are a wide variety of hues that fall into the rose gold family, including old rose color hair, warm rose gold hair color, rose gold ombre, and light rose gold hair (to name a few), meaning that there's something for everyone. With variations on rose gold, it works on any coloring, skin tone, and level of intensity.
Below are some other benefits of dyeing your hair:
Added thickness. Dyeing plumps the hair shaft and can make your hair temporarily thicker and fuller than before. So, in case you have fine hair, dyeing your hair can be great for you! Hair color adds a coating to your hair that thickens and improves the texture of your hair, which also translates into more volume.
Improved appearance. Hair color treatments are an excellent way to change your hair, according to your personality and mood. If you want to try out new looks, you can always enhance your appearance by changing your hair color. For instance, if you want to go for a lighter and more classic look, why not try old rose color hair?
Smooth and manageable hair. Color can also help tame frizzy hair by conditioning and adding more weight to your hair – this in turn can help keep your hair smooth and manageable. Choosing the right hair color shade can elevate your hair from drab and dull to unique and stunning.
How to Use Old Rose Color Hair
Good news: You don't necessarily have to go to a salon to get that beautiful old rose color hair. Just follow these steps to get in on the trend from the comforts of your own home.
Know what you have to work with.
Just like any major hair color change, it's crucial you know what you're getting into first.
If you have naturallyblonde hair (or if your hair has already been lightened), then you're probably fine to move onto the next step. However, if you have darker hair, you may need to bleach your hair first – and the darker your starting shade, the more sessions it may take to reach the right base color before you can move on to adding old rose color hair.
If you're going to DIY it, make sure to do your research and learn everything you can about how to bleach your hair at home. After bleaching, you're ready to dye your hair – just be sure to follow the instructions included in the box with your old rose color hair dye.
Identify and choose what type of color and hair color formula you want to use.
The second step is to understand the different hair color types available (temporary, semi-permanent, and permanent). Then, choose the type of formula that best suits your needs.
Permanent hair color will last the longest, so it's your best option if you're ready to commit to having old rose color hair long-term. Semi-permanent hair color will stick around for several weeks, fading a little every time you shampoo. On the other hand, temporary hair color will only last until you wash your hair.
Take care of your old rose color hair.
As with all color-treated hair, old rose color hair should be given the care it deserves! To keep your dyed hair looking its best, it's crucial that you following the right hair care routine.
If you want to help make your new hair color shine and prevent it from fading, here are some tips to help you take care of your old rose color hair:
Choose the right shampoo and conditioner. This might sound obvious, but its importance can't be overstated – when you have color-treated hair (no matter what color it is!) make sure that you use products safe for color hair.
Style safely. This applies to all hair types and colors – if possible, try to keep heat styling to a minimum. When you do use hot tools, make sure to protect your hair beforehand by using a heat protectant before you reach for your blow dryer, curling iron, or hair straightener. It's also advisable to limit heat styling (don't do it every day) and use your heat tools at the lowest temperatures possible.
Turn down the shower temperature. Very hot water can strip your hair of its natural oils, which can make it so your strands look duller and feel drier – nobody wants that! You can help prevent this unfortunate side effect by turning down your shower temperature; instead, rinse your old rose color hair in lukewarm water.
Old Rose Color Hair User Reviews and Recommendations
Excited to try out this beautiful old rose color hair shade for yourself? Below, we recommend some old rose color hair and rose gold coloring products that you should try.
Clairol Natural Instincts Semi-Permanent, 7RG Dark Rose Gold Blonde, Rose Gold
Discover your natural way to shine! Made with 80% naturally derived ingredients, Clairol Natural Instincts gives you a rush of color you can feel good about. Say \"yes\" to gentle ingredients like coconut oil and aloe Vera and say \"no\" to ammonia and added parabens.
Our no-drip crème formula is designed to feel more like a conditioner, and it's gentle on all hair types and textures. Treat yourself to color that boosts shine, blends away grays and lasts up to 28 washes. Available in 37 natural shades, so you can find the black, brunette, blonde, or red hue that's totally you. Use the hair color chart below to find your ideal shade.
User reviews:
"I was always too scared to color my hair myself (I have always gone to a salon to get my greys covered). However, I was not liking the results I was getting at the salon as the color was too dark (even after asking her to move up to a "8"). So, I bought this product and tried it last weekend. Boy was I impressed!
It is easy to use and the color looks great! Just the color I wanted to cover my greys without darkening the rest of my hair. The product did cover most of the greys pretty well except for the grey around my right temple.

I think part of that is a result of user inexperience. I started at my left temple with the color and worked my way over to the right temple. Next time I will start at the right temple and see what happens." – Ann Simic
"I bought the Dark Gold Rose Blond. The strand test didn't show good grey coverage results. However, leaving it on my mostly grey, previously colored honey blonde for 45 minutes produced excellent results. Turned my hair a great shade of deep strawberry blonde. Increasing the time it's on improved the grey coverage too.
It does fade faster than claimed, even with washing 3x a week in ultra-mild sulfate-free shampoo. I give it four stars because three seemed too low for excellent color (exactly as shown on box) but deducting one for faster than advertised fade, and for working better when I ignored the recommended development time and tried a "science project" approach.
I am ok with this; I love the color, and it's very inexpensive." – Jennifer K. G.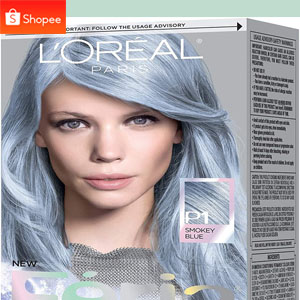 Multi-Faceted Shimmering Color. Never dull or flat. Never wrecks or ravages. With L'Oréal Feria hair color, what you see is the shimmer. Multi-Faceted shimmering color with 3X highlights delivers intensified, brilliant results.
Inspired by fashion, Feria offers a twist on the traditional and gives edgy hair color – from bright red, platinum blonde, rose gold, metallic brown, to blue black hair color, these hair dye kits will transform your hair. Feria's prismatic color spectrum is custom-blended by L'Oréal master colorists for bold hair color in head-turning shades – no appointment necessary.

The Power Shimmer Conditioner seals and smooths. Won't wreck or ravage hair.
User reviews:
"I'm a natural redhead. Used to have really red hair. Natural red, when it goes gray (as mine has) looks blonde. I hate it. It washed me out. I used to use a blonde dye which would give me like a strawberry blonde, which was fine….then I picked up a box of Rose Gold and it is the best for my hair.

It turned it a beautiful reddish pink with crazy highlights all over. I have had more people compliment my hair since I've started using this shade. My only hope is that L'Oreal does not dis-continue the shade." – Carole Cuozzo
"ROSE GOLD. Beautiful color! I was worried that it would be blond with bubble gum pink streaks. But it was a medium blond with a pinkish sheen. Very subtle. No smell once you shampoo. Hair is soft and shiny. Product is easy to use too. It's a one step process. Will use again! You may need a pre-lightener if your hair is dark. I am a blond so I was done in under an hour." – Cat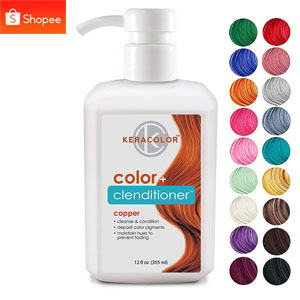 Color while you cleanse! Keracolor Color + Clenditioner is a non-lather conditioning cleanser designed to instantly infuse color into hair with every wash. Add stunning hues, maintain vibrancy and kick up your color between salon visits.

Keracolor products are Keratin based to promote strength, shine and softness. Sulfate and paraben free.
Depending on the Keracolor Color + Clenditioner tone you choose and condition of hair prior to use, results will last 10-15 shampoos.

The lighter the hair the more vibrant the results will be. On dark blonde to light brown hair multiple washes may be needed. Foam is not your friend! Shampoos that lather uprichly do so by using harsh ingredients that can cause drying and breakage of the hair.
This low-foam clenditioner cleans away dirt and debris while depositing true and rich color. Our motto is-do no harm, so we've eliminated parabens from our formulations as well. For mazimum intensity, apply to dry hairor do multiple applications until desired color is achieved. To maintain achieved tone, alternate with Clenditioner.
User reviews:
"Ok so I ordered this in Rose Gold & Pink. To start off my hair was lightnened to a white. I used the light Pink first. The color was vibrant! It was a light bright pink after the first wash, and got darker after every wash.

After I got bored with that I moved on to the Rose Gold. This is why I gave a 4 vs 5 review- while the color on the bottle showed a dark color, it was a purple on my hair, not Rose Gold. I like the color, but the name throws me off. Even after washing my hair to get the color out it is more of a lilac vs a Rose Gold.
Here are some tips: apply to DRY HAIR & let it sit, then rinse. I would work the clenditioner for about 3-4 minutes on dry hair and just chill with it in for about 10-15. This created vibrant color that stayed in my hair for a while even with regular washing with a shampoo that has sulfates. Why would I wash with sulfates? To fade the color as a experiment.
This product is great, I would absolutely buy it again. The color in the photo is Rose Gold, 3 washes with the Klenditioner, 2 washes with a sulfate shampoo. More pink-ish today, but purple when applied at first. Could also be because my hair was white when I started." – Virgo
"I no longer use shampoo, I use this 100% on my hair, it's great. I discovered that I can apply it to my hair pre-shower and leave it for some time (30 minutes, an hour, or more) and it works really well – it turned my grey hairs a beautiful pink. I progressed to a mix of colours, hot pink, regular pink and blue and I've developed my own mix which turns out a pinky-purple.
Strangers actually stop me on the street or in stores and tell me how much they love my hair colour – and this happens several times a week and I'm 52 years old. It's way way better than being the mousey grey middle-aged woman I was before I discovered this product. It's saved me from obscurity and invisibility. Thank you Keracolor for keeping me young!" – Sam
Old Rose Color Hair Price
For old rose color hair coloring products, note that prices can vary depending on the brand you choose and where you buy it from.
Price ranges from Php 400 for lesser-known brands; Php 900 to Php 1,000+ for well-known brands.
Where to Buy Old Rose Color Hair
Wondering where you can buy old rose color hair coloring products?

Buy Old Rose Hair Color online at Shopee marketplace.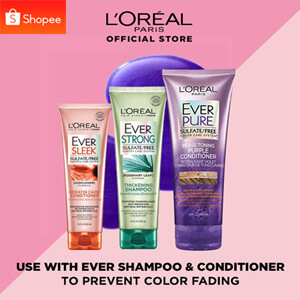 (simply type in 'old rose color hair' and you'll have plenty of options):

You can also check Shopee's "Old Rose Color" stylish dress and other accessories.

Simply proceed to this link and see it for yourself.


or an Old Rose Infinity Dress like this.