If you don't love matte lipsticks, get ready to change your mind because you have been missing out, friends!

Maybelline Sensational Liquid Matte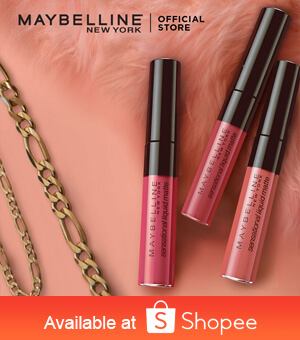 There could be many reasons why you're not into matte lipsticks – the main one being that sadly, many lazy formulas tend to be drying. No one wants to sit around with their lips feeling cracked and chapped because their lipstick sucked the moisture out of the.
However, not all matte lipsticks are created equal. Some, like the Maybelline Sensational Liquid Matte Lipstick, manage to be weightless, comfortable, and long-lasting.
Wondering if this is the right matte lipstick for you?

Read on to learn more about this product, including its benefits, features / ingredients, price, where to buy it, and more!
Maybelline Sensational Liquid Matte Description
Matte lipsticks look really good, but they don't always feel that way. Sometimes, you have to deal with the flaking, the feathering, and the dry crustiness all in the pursuit of beautiful bold matte lips. But, with today's cosmetic advancements, you no longer have to deal with all of those! Today, matte lipsticks –hydrate like a balm, glides on like a lip gloss, and don't settle into your lip lines.
Coming from an internationally-renowned cosmetics brand, the Maybelline Sensational Liquid Matte Lipstick is weightless, comfortable, and long-lasting – plus, it comes in 11 beautiful matte shades!
The Maybelline Sensational Liquid Matte Lipstick formula is long-lasting and gives a flawless matte finish in 11 beautiful matte shades ranging from classic red liquid lipstick to nude and bright lipstick shades. Available in highly pigmented and rich lipstick shades, the Maybelline Sensational Liquid Matte Lipstick delivers intense matte color with just one swipe.
Maybelline Sensational Liquid Matte Benefits
Wondering why you should use a matte lipstick like Maybelline Sensational Liquid Matte Lipstick? Here are some benefits you can enjoy.
This is probably one of the biggest benefits of wearing Maybelline Sensational Liquid Matte Lipstick. With this, you don't have to worry about smudging it with every little thing that you do with your mouth, especially when you're eating. With a matte lipstick, you don't have to constantly check on your lips to see if your lipstick has spread out of bounds.
Do you often wear light makeup? If so, you won't have any problem matching a matte lipstick with the rest of your look. With a matte lipstick, you can still wear a bold color without looking as though you're about to go overboard with your makeup.
Compared to glossy lipsticks, Maybelline Sensational Liquid Matte Lipstick sticks to your lips longer. You just need to apply it once for it to last a day! This means that you no longer have to run to the bathroom to quickly reapply your lipstick during lunch or break time.
If you accidentally stuck your lips to any of your clothes (especially your favorite ones), you don't have to worry about how to get it off of the affected fabric. Why? That's because matte lipstick doesn't stick, unlike glossy ones. Plus, when you eat, you won't find lipstick stains on your cup, glass, or utensils – it stays on your lips.
It can be worn, even during summer.
Glossy lipsticks tend to melt under the summer heat, especially when you are sweating. On the other hand, the Maybelline Sensational Liquid Matte Lipstick still stick to your lips despite the perspiration. And the bets thing? They won't make your lips feel awkwardly hot and heavy!
It can help you stand out.
When you wear your favorite matte lipstick, it will add some definition to your lips and your entire face. If you want to stand out, go matte!
Maybelline Sensational Liquid Matte Features and Ingredients
The Maybelline Sensational Liquid Matte Lipstick comes in a sleek cylindrical tube with the brand and range name written on the tube. The tube is transparent, making it easy for you to spot the shade easily. The lipstick name and number is glued at the bottom of the lipstick tube.
This liquid lipstick has a shiny, black color twist open cap which closes tightly. Like other liquid lipsticks, the Maybelline Sensational Liquid Matte Lipstick also has a doe foot applicator attached to the cap. Overall, the packaging is great! It's sleek and tiny, fits everywhere, and does not require a lot of space, making it very lightweight and travel-friendly.
Ingredients: Isododecane, Polybutene, Disteardimonium Hectorite, Trimethylsiloxysilicate, Silica Dimethyl Silylate, Ethylhexyl Palmitate, Propylene Carbonate, Alumina, Caprylyl Glycol, Parfum / Fragrance, Pentaerythrityl Tetra-Di-T-Butyl Hydroxyhydrocinnamate, Tocopheryl Acetate, Benzyl Alcohol, [+/- May Contain CI 77891 / Titanium Dioxide, CI 77491, CI 77492, CI 77499 / Iron Oxides, CI 15850 / RED 7, CI 45410 / Red 28 Lake, CI 15985 / Yellow 6 Lake, CI 45380 / Red 22 Lake, CI 42090 / Blue 1 Lake]
Maybelline Sensational Liquid Matte How to Use
Whether its your first time using the Maybelline Sensational Liquid Matte Lipstick – or if its your first time using a matte lipstick ever! – here's a quick guide to help you use it correctly.
Step 1. Apply liquid lipstick in the center of your upper lip and follow the contours of your mouth.
Step 2. Glide the liquid lipstick across the entire bottom lip.
Step 3. Allow product to dry.
That's it! With just three easy steps, you can enjoy the weightless, comfortable, and long-lasting benefits of the Maybelline Sensational Liquid Matte Lipstick.
Maybelline Sensational Liquid Matte User Reviews
Wondering what people are saying about the Maybelline Sensational Liquid Matte Lipstick? Here are some reviews.
"Maybelline introduces another remarkable lipstick which is matte, transfer-proof and yet non-drying at a super-affordable price. It gives full opacity with one swipe, drying down to a matte within seconds of applying. It is transfer-proof, yet feels very comfortable, almost weightless and doesn't dry out the lips.

Unlike some matte liquid lipsticks, this doesn't become crumbly or flake off in pieces even after wearing for many hours.
I apply it with a light hand as the colour deepens after drying. During the day, when I don't want an intense look (with this shade), I dot a small amount on my lips and dab it all over for a toned down, blotted look which I love. Wears for 6-7 hrs. in this weather but requires application after a meal.

Unlike the Superstay Matte Ink, this is easily removed with plain micellar water and doesn't require a bi-phase one.
The biggest con for me is it emphasizes texture & lines on my lips, hence the 4*. This shade also gradually changes color from a reddish-brown to a pinkish-reddish-brown (hard to describe but the brown tone lessens) after 4-5 hrs. Not sure if its only with this shade or it is because of the lipstick gradually adapting to my natural lip color. Overall, a really good product as its performance is on par with many high-end brands.

A transfer-proof yet comfortable liquid lipstick is good for daily wear as well as for special events. This formula would be a comfortable way of wearing deep shades like red." – GM
"Actually, I'm using Flush It Red shade number 03. Perfectly matte finish liquid lipstick. Feels good to use." – Karan
"SUPER MATTE! Fell in love on first swatch and fell in love more as I used it. Transfer proof, super matte, the color (ruler) is so beautiful! Perfectly matched for my darker skin tone, enhanced my features. Does not make me re-touch for a couple times as once is enough for hours." – Indri
"Soft wine: Color and texture is awesome. It really pops up on darker skin tones. I really loved it.
Made easy: It is really pale and extremely nude. Doesn't suit for brown skin tones. It really looks good on fair skin tone.
Flush it red: Color is really brillant as given in the picture. Highly disappointed with its texture. When multiple swoches are applied it looks more cakey. Moreover, it will be visible that you have applied more layers. Color wise it is absolutely good, but quality is not good." – Jyotsna
"Really amazing deep red shade. Unfortunately, my camera couldn't pick up the deepness of the shade. But it's a very good liquid lipstick formulation by Maybelline. Let's look at some key lipstick parameters:
COLOR:
Deep red and suitable for all skin tones. Truly sublime. I am medium to dusky toned and you can see how good it looks on me.
LONGEVITY:
Yes, it is a long-wear lipstick. It lasts for 5-6 hrs or even more (up to 9-10hrs) if maintained well. It does leave a stain also. I had oily food after the application and it didn't seem to budge.

FORMULATION:
Matte formulation but is not drying or chipping off like most other liquid lipsticks.

PIGMENTATION:
It is clear enough from my pics that it's heavily pigmented and appears with a single layer of an application. Good coverage.

TRANSFERABILITY: Negligibly, almost nill transfer.
ODOUR:
A sweet subtle odour, maybe like talc. Not irritating. QUANTITY: Good quantity as per price range and quality of lipstick APPLICATION: Easy to apply but requires some precision. Wand is good.

Recommended? YES. Absolutely do go for it!" – Anjana
"I bought the shades Made Easy and Best Babe, they are perfect for dusky beauties.
Worth the price nice shade.single stroke is more than enough to cover entire lips..shade is fullest..as time passes the shade becomes darker instead of fading away..long lasting more than 6 hrs after having tea food the shade is still here on my lips. Loving it." – RS
"Hands down some of my favorite drugstore makeup products! I love how these liquid lipsticks are matte without sucking the moisture out of your lips. The pink & nude shades in this line are my go-to everyday lipsticks during this pandemic. These will hold up all day and night. Highly recommend." – Gabs
"While I love how easily this lipstick applies, I do find that it dries my lips quite a bit. Also, when I take it off, it leaves a weird feeling on my lips, almost like a residue that I have to scrub a bit to get to go away. I've tried two colors now, and neither have looked good on me. I'm about to give up! My first color was way lighter than I expected. The second time I was very careful and inspected each shade before picking.
However, what I got was very brown when I thought it was a bit of a rose gold based on the tube and the pictures of the models. I really want to try to find one I love, but I don't want to keep wasting money on trial and error." – Katie
"Really does last all day! Great lipstick. It's my new fav. The only trouble is the color isn't what it looks like on the tube it's a few shades darker. I have had 3 friends buy these lipsticks because they really do last all day. Even longer than my Mac lipsticks." – Holy
"Looks good on light to medium skin tone, will look like a natural mlbb shade on wheatish skintone, however I don't think it will compliment dusky beauties, might look too Neon and wash out. (Also, I like to use it in lesser quantity and dab it on my lips rather than applying coats, it looks better according to me that way)
Affordable. However, the staying power is not like other Deep shades in this range, and it does fade away when you eat or drink something. Slightly patchy as compared to other dark colors in this range (it's normal for light colors). It is drying." – Rani
"Stays on all day. I'm a huge fan of matte lipsticks so I was very excited about this product. I was shocked that it actually lasted all day even while wearing a mask! I loved the shade! The only thing that I didn't like was the scent, it is kind of weird. Didn't really dry my lips out like most matte stains do. I definitely recommend!" – Kelsey
Maybelline Sensational Liquid Matte Price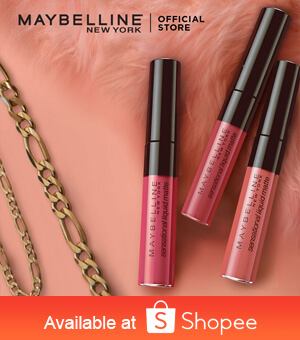 Wondering how much the Maybelline Sensational Liquid Matte Lipstick costs? You can find it on the official Maybelline website for Php 229.00 SRP!
*Prices may differ from one store / seller to another.
Where to Buy Maybelline Sensational Liquid Matte
Aside from the official Maybelline website, you can also buy the Maybelline Sensational Liquid Matte Lipstick from their official Shopee store.
Visit their official Maybelline Shopee Store now.