Find the perfect shade of nude color lipstick is the equivalent of discovering your ideal pair of heels:

There are countless options on the market, and finding a suitable pair requires a lot of trial and error; but, when you find the right fit, it immediately finds a permanent place in your makeup collection.
Like the perfect foundation or mascara, nude color lipstick is a makeup bag essential.

A nude color lipstick is – and will always be – the best failsafe shade anyone can turn to. It looks good on everyone and is perfect for every look – whether you want to go for a natural-looking finish or if you want to add some subtle sophistication to your evening-inspired look.
While lip-enhancing products like lip masks and hydrating lip oils are fairly easy to navigate based on your lips' needs, nude color lipsticks require a bit more research due to the complexity of color matching, your desired finish and texture, and the consistency of the formula.
To help you navigate the endless options available, we list down some of the best nude color lipsticks for every skin tone available in the market today. We also include tips on how you can find the perfect nude color, professional application tips, and more.
Nude Color Lipstick Description
First things first, what exactly is 'nude color'?
Originally, 'nude' was named after the Western-European centric Caucasian skin tone. It is close to beige in terms of being a pale shade of the mixture of white and brown. Today, the term 'has expanded not only in fashion, but also in society as it embraces diversity.
Nude color is the latest trendy shade and sits somewhere among the browns. This color has a considerable resemblance with the beige shade due to the hint of pale shade.

But factually, it is a different shade and can be attained by combining a substantial proportion of brown and white colors. Just like any other shade of brown, nude is not the exact shade; instead, it is a better representation of multiple neutral hues and tints.
Nude lipstick is lipstick that's close to the shade of a person's natural skin tone. Based on skin tone, nude color shades may include really light shades which are near to bright, moderate shades that are near to lighting and the household to moderate browns for all those with black skin.
Nude Color Lipstick Benefits
You might be wondering, "WHY do I need a nude color lipstick?"

Below, we highlight some of the benefits of nude lipsticks.
Easy to wear. Thanks to its light tone, which easily incorporates into different skin tones, every woman can wear nude color lipstick – regardless of makeup skill level. Unlike dark lipsticks, there's no such thing as 'a special makeup application technique'. Just apply it on your lips, press them together and that's all!
Goes well with any outfit. The nude color is categorized as a 'neutral tone' because it doesn't belong to any particular tone. Thanks to this ambiguous trait, you can match nude color lipstick with whatever outfit you choose to wear – be it your work outfit or party clothes. Nude lipstick always looks great on you, regardless of how you dress.
Looks good on every skin tone. Unlike dark lipsticks – which you have to carefully find the best color and shade for your exact skin tone – the perfect shade of nude color lipstick brings out the best in everyone, regardless of skin tone.
Goes well with any makeup look. Thanks to its light tone and ambiguous trait, nude color lipstick can perfect match any makeup look. Whether you're trying to achieve a cool-girl look by matching nude lipstick with smoky eyes, or if you want to transform into a K-pop idol by matching it with shimmery eye makeup, the nude lipstick has you covered!
Works with every lip shape. No lipstick can do exactly what nude color lipstick does – it perfectly matches every skin tone and lip shape. Thanks to its light tone, nude lipstick works well on every lip shape, whether you have full lips, thin lips, or cupid-bow lips.
How to Use Nude Color Lipstick
There's art to finding the perfect shade of nude color lipstick – and to applying it!
Here's some expert advice from Melissa Butler, founder of The Lip Bar, "Make sure you apply the color heavily in the center—this will add depth to the lip and is always the first area to go throughout the day due to eating and drinking habits."
To avoid looking washed out, professional makeup artist Jonet Williamson recommends, "Line the lips with a brown or deeper-toned nude lip pencil to add definition. You'll want to shade at the corners, line the rim (overdrawing a tad is fine), then blend out using your finger or a lip brush for a completely blended lip application."
Nude Color Lipstick User Reviews and Recommendations
Looking for the best nude color lipstick out in the market today? Here are some of our top recommendations along with user reviews.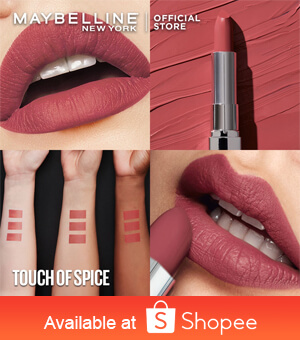 Maybelline's best-selling matte lipstick formula, now in a collection of flattering nudes and browns!
Maybelline ColorSensational Creamy Matte Brown Nude Lipstick has a buttery-soft formula that applies in a rich and creamy manner. It delivers a vibrant, opaque color payoff and glides onto lips seamlessly for comfortable wear. It is a long-lasting formula with a shine-free, velvety finish!
User reviews:
"Love it This affordable creamy matte lipstick is my go-to makeup for a natural look. It doesn't feel too dry and is easy to apply. Not the most long lasting and wears off as soon as you eat or drink but it's alright considering the price. Definitely my favorite Maybelline lipstick shade." – Korina
"Nice and Creamy! I like their creamy matte line. It's easy to apply, feels nice on the lips and the available shades are all so pretty! This one in particular is a bit too light for my taste but I've tried their other shades and their awesome. This is definitely one of my go-to lipsticks." – Maur
"Perfect shade for Morena ladies This is my go-to lipstick color! When I put this on, you barely notice I'm wearing any – I prefer a subtle and creamy consistency. Major plus: doesn't dry my lips as well but if you want an extra shine, seal it with a lip balm.

I recommend Maybelline when it comes to their lipstick varieties, it never fails me. Why do I keep coming back to this? It lasts for hours – no joke! It'll stay put when I go to work and come home." – Janine
NYX PROFESSIONAL MAKEUP Butter Gloss – Madeleine (Mid-Tone Nude)
Buttery soft and silky smooth, NYX PROFESSIONAL MAKEUP's Butter Gloss is now available in sumptuous shades. Each glossy color delivers sheer to medium coverage that melts onto your lips and is never sticky, leaving your lips soft, supple and kissable.
User reviews:
"I love this color on me. I love wearing lip gloss I have so many colors especially from NYX cosmetics, but ginger snap is my absolute favorite. This lip gloss on nice and smooth and leaves my lips feeling moisturized and color lasts on my lips all day I also love the way that it smells. The lip gloss does not have a sticky feel. This color can go well with any skin tone. I am african american with dark complexion and when I wear this color it gives more of a nude color, goes perfect with my skin complexion." – Tosha
"I was on the search for the perfect colored lip product to suit my skin/hair/and eye colors without looking like a clown. I purchased tiramisu and it's just lovely! The formula is sticky so if that bothers you I'd stay away! Also it came sealed in plastic! I'm extremely fair skinned with cool undertone, reddish blondish hair, and blue eyes it suited me very well!" – Amber
"Okay, I have very sensitive lips. They breakout and dry out on the edges if I try anything "cheap", so I was skeptical on purchasing this gloss. It's more pink than it looks in the pic, but it's SO buttery and pretty!

My husband and I both think it smells like cookies LOL. It goes with anything I wear and feels moisturizing; my new FAVORITE!! Spend the $3, you won't regret it!!" – Andrea Julian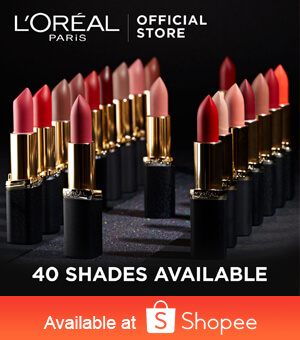 Indulge in richness beyond compare with L'Oreal Paris Lipstick from Colour Riche. Colour Riche Lipstick contains nourishing ingredients like Omega 3 and Vitamin E, plus the lipstick is enriched with Argan Oil to condition and soften lips. Your lips are kept soft, smooth, and ultra-hydrated.

With a spectrum of gorgeous satin shades from bold to nearly nude, Colour Riche Lipstick offers a lip color that's perfect for every look and any occasion.
User reviews:
"I have used the L'Oreal Colour Riche lipstick for several years now. I am light complexioned and cannot wear most of the colors which are available – they tend to make me look clownish or garish. This shade gives me color which looks more natural but still definitely darker than without lipstick. Don't be turned off by the name – Toasted Almond sounds more brown than it actually is – there is more warmth to the tone than that.

A plus that it lasts pretty well too!" – SML
"Love the color but it's too matte for me. My lips don't feel as moist, and it really makes the wrinkles show up around my lips. Think they call that bleeding? At any rate, I've not noticed this with other lipsticks. I'm wondering if the product is an old one, and maybe that is why it seems so dry." – Josephine
"Besides a little lip gloss to top my lipstick sometimes, I only use Loreal's lipstick because it is so moist and the colors are so realistic and flattering. I use two colors together to get the perfect shimmer and shade and I don't need lipgloss with these.

I buy in duplicates so I can always have them in my purse and at home. No other lipstick even comes close to measuring up and I've tried the expensive brands. L'Oréal is good quality makeup at an affordable price. My lips don't hold onto lipstick very long though so I have to reapply it a lot but i don't mind a fresh coat when needed." – Emmie Eaton
Rimmel Lasting Finish Lip Color Nude Collection
Live the London look! Get the London Look with Lasting Finish Lipstick Nude Collection from Rimmel London. Achieve up to 8 hours of elegant natural glow to balance your skin tone. Thanks to the exclusive Black Diamond pigment complex, light is reflected like never before for beauty in the buff.

The utmost weapon to amp up your style at work, when shopping, or for a night out on the town.
When you want a nude lipstick that lasts all day long, choose Lasting Finish by Rimmel London Nude Collection. Apply in one smooth stroke to for an elegant balance between colour and no colour. Lasting Finish Lipstick Nude Collection is an elegant way to capture the flair, edge, and timelessness of the natural look.
User reviews:
"This lipstick feels so nice and creamy . Shade 41, while a beautiful nude, just didn't suit my super fair, neutral toned skin. It has a bit of a pretty pink hue but has a pasty look on me. It's lighter than my natural lip color and makes me look sick. I'm going to use it on top of my darker matte lipsticks to make them lighter and more creamy.

I think this would look beautiful on most skin tones just not the fairest of the fair." – C. Wallace
"I like the nude color scheme but have found it doesn't seem to stay on for very long. I even used it with a long lasting lip liner and the lipstick came off within an hour. It is beautiful but definitely if reapplying is not your thing… Might want to look elsewhere. I hope this helps someone!" – Summer
"Bit darker than nude on me but that's to be expected as I'm very pale! Still a lovely cool natural looking shade! Lovely creamy texture even on dry lips. Will need topping up after eating etc but otherwise lasts very well." – Emma
Nude Color Lipstick Price
Nude color lipstick prices can vary depending on the brand you choose and where you buy it from.
Price ranges from Php 200 to Php 400 for drugstore brands; Php 900 to Php 1,000+ for designer brands.
Where to Buy Nude Color Lipsticks
Wondering where you can buy nude color lipsticks?

You can also buy nude color lipstick from popular e-commerce platforms like Shopee, Lazada, and Zalora. You can also find nude color lipsticks from your local drugstores, beauty shops, and malls.

Visit this online store now to buy your Nude Color Lipstick